"Grey Tray - the sustainable way!"
03/05/2023
---
Recycled plastic; this has been the raw material used to produce Desch trays for years. Up to almost 100% recycled material from industrial activities (such as cutting and punching waste), but also recycled plastic from the interior of discarded refrigerators. The raw material is usually polystyrene, a material that can be used to make strong and durable trays via the thermoform process. In the past, black dye (carbon black) was widely used to achieve a uniform appearance. Nowadays this dye is omitted from Recover grey trays, which optimises their detection during the recycling process. In general, trays are still too large for automated recycling, but we have also seen positive developments among recycling companies thanks to the selection of trays from the waste stream via Near Infra Red (NiR) detection technology.
Recycled Anthracite
The most basic product in the current series of grey trays made using Post Industrial Recycled (PIR) material. Carbon Black as a dye is no longer added, making the tray a dark grey colour instead of black. The colour is not uniform and varies depending on the recycled material supplied to Desch. This tray is perfectly recyclable but not NIR detectable.
Anthracite grey is used for Normpack® Trays, TrayC and on request for packs and sowing and seedling trays.
Recover® recycled grey
The tray made from Post-Consumer Recycled (PCR) material such as the recycled interiors of refrigerators. Desch processes the granules supplied into a film, which is then transformed into trays via thermoforming. This makes the tray naturally light grey, although there may be slight variations in colour. The Recover® tray is NIR detectable. Desch has also received CyclosHTP certification thanks to the Recover® tray. This guarantees optimum processing by waste processors. It also makes the Recover® tray fully recyclable. The Recover® material is used for our Transport Trays (including Normpack®) and on request for packs and seedling trays.
Recover® also comes in a PP (polypropylene) variant, which can be used to make injection-moulded ornamental and nursery pots, as well as thermoformed flower pots and containers. The hanging pot with Grow&Go® water buffer can also be made using Recover®. Beautiful, durable and also CyclosHTP certified.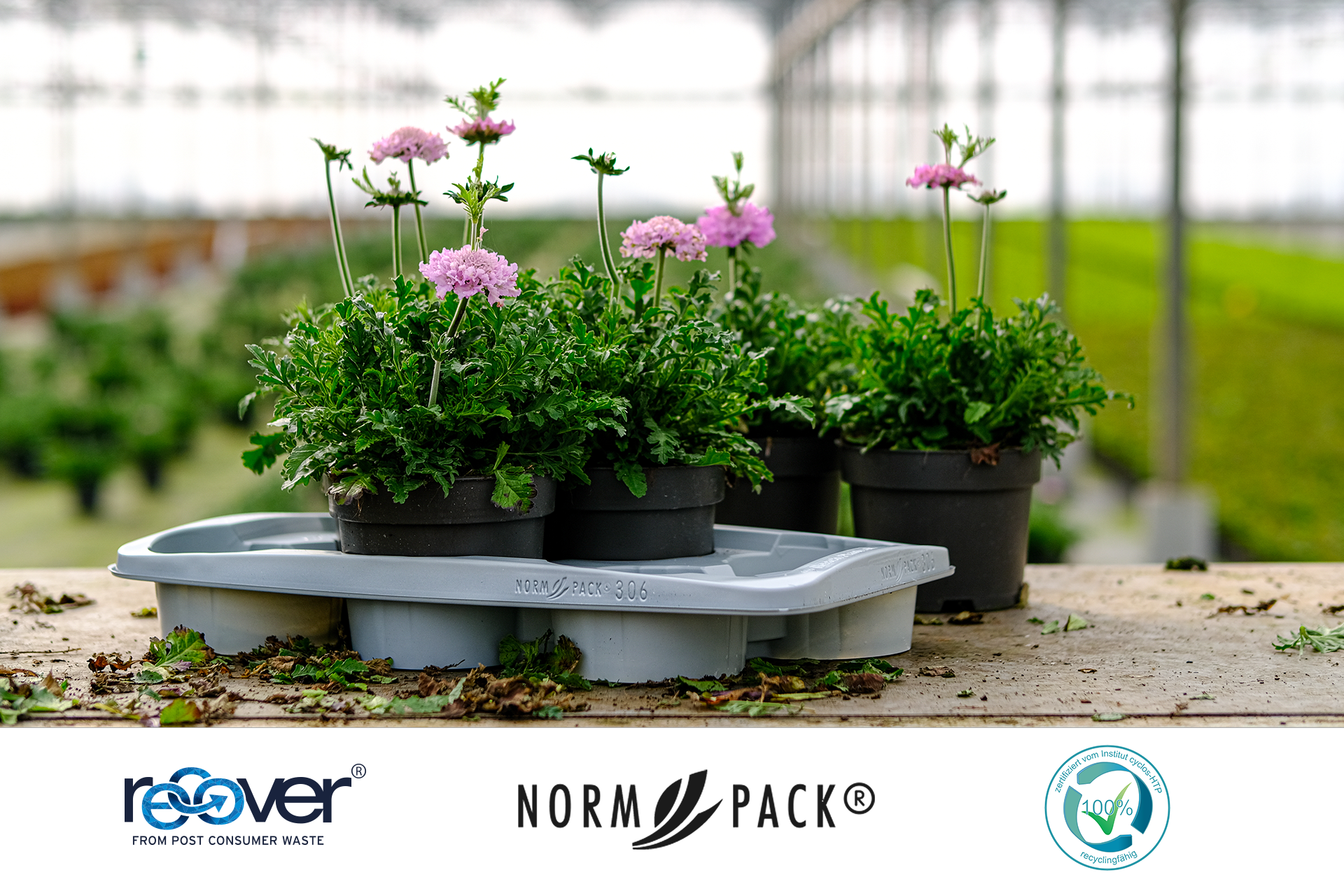 TrayC
Through the TrayC returns system, Landgard (Germany) reclaim used trays from retail chains such as DIY stores, garden centres and cash & carrys. TrayC trays are sorted for reuse or recycling at a central collection point. If reuse is no longer possible, the trays are recycled and the resulting raw material is then reprocessed into new TrayC products. Desch's TrayC range is made entirely of Post-Industrial Recycled plastic and contains no virgin plastic or dye additives. Like our recycled Anthracite Grey trays, the colour is determined by the recycled material used. TrayC enables sustainable and circular business practices.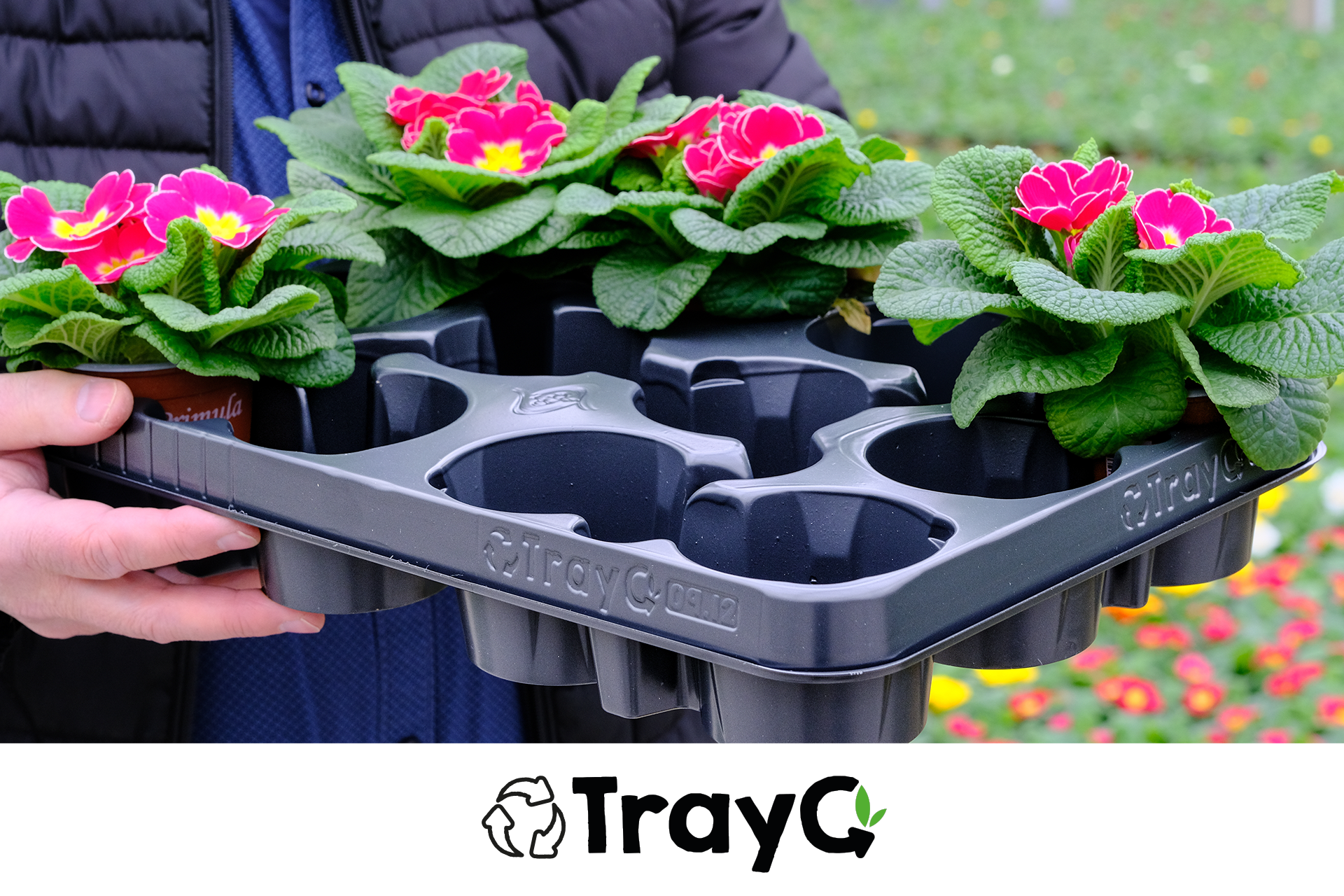 Normpack® trays
One of our best-known brands is the Normpack® transport tray. Normpack® trays are mainly used for packing plants in order to properly protect them during transport and give them sufficient water. Desch Plantpak provides the complete range of Normpack® trays, consisting of the Normpack® 200, Normpack® 300 and the Normpack® 400. This allows us to meet all the transport and growing needs of professional horticulture, as these versions are suitable for both small and larger pot sizes. Moreover, they are fitted with overflow holes in the bottom as standard, allowing plants to get enough water during transport. Normpack trays are available in different sizes and designs. You can also choose from a variety of colours, including bordeaux black, white or certified trays such as Recover® recycled grey. Many models of Normpack® trays are also available as nursery trays with bottom holes. Which Normpack® tray you choose, partly depends on the type of plants you are transporting. Learn more about Normpack® on our website.
Sustainable choice
Whatever version you choose; all transport trays are sustainably produced using recycled materials via the thermoforming process. Waste created during the production process is also re-introduced as a raw material. Trays in Anthracite are a great choice in terms of price, with Recover® being the most durable and secure. Recover® trays are also certified.
Buy transport trays
Want to buy high-quality transport trays? Desch Plantpak has production sites in several countries (The Netherlands, UK and Poland). Our head office is located in Waalwijk (The Netherlands). With sales markets in over 65 countries, Desch Plantpak is a true global player. Desch not only supplies transport trays and other horticultural products, it also designs and produces them. This means we can guarantee 100% high quality and sustainability: exactly what the market demands of us and what we believe is important. We care about your plants & our planet