Desch expands its eco-friendly range for the professional horticulture sector
02/09/2018
---
Today's world, and even more so tomorrow's world, is demanding new production methods and innovative recycling. Under the motto '

We care about your plants & our planet

', Desch Plantpak is continually extending its range of products for professional horticulture with items which respect the environment. Thanks to its D-Grade® and RECOVER brands, Desch can now meet every demand for eco-friendly pots and trays.
D-Grade®. 100% compostable
The fully compostable D-Grade® brand now consists of two product lines: D-Grade® BIO, made from plant-based biopolymers, and D-Grade® FIBRE, made from recycled paper pulp, making it both an upcycled product (from old paper) and 100% compostable.
D-Grade® BIO: four-star biobased certified and 100% compostable
The D-Grade® BIO product line now includes an attractive selection of thermoform pots and trays, all made from plant biopolymers. During production, much significantly less energy is consumed and much less CO2 emitted than in the manufacture of comparable products made from recycled polypropylene.
D-Grade® BIO is 100% biodegradable, and industrially compostable in accordance with the EN 13432 standard. D-Grade®BIO is TüV OK Compost certified under number O 09-376-D and TüV OK four-star biobased certified under number B 10-054-A.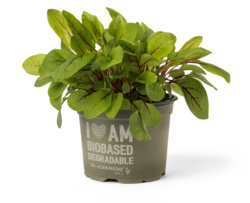 D-Grade® FIBRE. Made from recycled paper pulp. Recyclable & compostable
D-Grade® FIBRE is a nice, logical, strong, lightweight addition to D-Grade® BIO, and offers growers an excellent option for the automated cultivation of plants. D-Grade FIBRE has the natural appearance of paper pulp, and is a great alternative. The products are 100% biodegradable and compostable.
The main component is a biodegradable wood fibre of natural origin. Most of it can be composted and certified according to BS EN ISO 9001 registration FM 553146. D-Grade FIBRE can be recycled according to the provisions of EN 13430, and is biodegradable according to EN 1343.




RECOVER. 100% circular.
RECOVER is the very latest product line from Desch; an addition to the standard recycled products in the Desch range as a result of demands from the market. Desch purchases post-consumer plastic waste exclusively to produce RECOVER. RECOVER products have their own distinctive colour, which makes them easy to separate them from the waste stream after use and during waste processing. We can then recycle them again.
It means that RECOVER is a completely circular product. Made from recycled plastic, and endlessly recyclable.